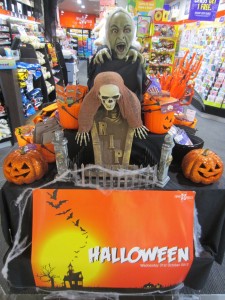 newsXpress stores across Australia are having with Halloween already thanks to product deals and marketing collateral from newsXpress.
Check out part of the display at corporate store newsXpress Knox. This offer is at the front of the shop, facing into the mall, and uses good merchandising skills to create a display with drama, fun and a compelling retail offer.
newsXpress has owned Halloween in the newsagency channel for seven years. Halloween 2012 is already off to a screaming and financially rewarding start.
Halloween generates traffic and drives impulse incremental business.