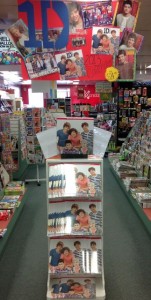 Check out the fantastic display created by the team at newsXpress Bairnsdale to promote the One Direction 2013 calendar in-store. There is no missing this display. Just fantastic.
Since newsXpress members had this product available for a month before any other retailer they were able to chase excellent sales, exclusive sales.
It's displays like this that help newsXpress members leverage the commercial opportunities delivered by the company through good-margin supplier high-impact and valuable deals like the exclusive One Direction calendar opportunity.
Money in the bank is a good feeling for any retailer.