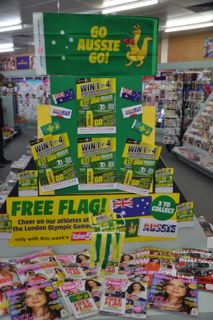 Check out the display facing shoppers as they enter newsXpress Streaky Bay. This is brilliant positioning of the GO GREEN & GOLD supported EXCLUSIVELY for newsXpress by ACP Magazines.
On offer is four entertainment systems valued at o ver $17,000. There will be four very happy and lucky newsXpress shoppers.
This display by newsXpress Streaky Bay is excellent as it ives the business a wonderful point of difference in town, a newsXpress point of difference thanks to ACP.
newsXpress members across Australia are behind this promotion … watch for more photos coming soon to this place.