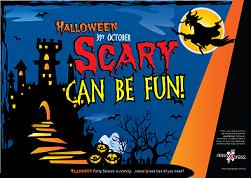 newsXpress has shown that Scary can be fun with its fresh approach to Halloween this year.  newsXpress stores across Australia have been places of fun and good business over the last few weeks and this past week especially as we drew closer to the big night – TONIGHT! We have made newsXpress stores destination stores for Halloween. Customers love this, newsXpress retail employees love this and newsXpress retailers love this!
Our Halloween strategy has proved again this year to draw new traffic and extend the shopping basket – with good margin product.  This is a great commercial story for newsXpress stores.
Tonight, if you hit the streets for some trick or treat fun or if you head off to a Halloween party, have fun (because Scary can be fun), stay safe and think about newsXpress – we're your Halloween destination.  Boo!