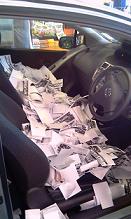 The Toyota Yaris on show at newsXpress Pakenham is filling with entries in our newsXpress national Back to Work campaign.
Using the car as the entry box is a stroke of genius!
newsXpress members across the country are reporting excellent interest in the competition and the Back to Work sale.   Our stores will have good marketing databases as well as good and valuable sales from this campaign.
This is another newsXpress difference: an excellent campaign driving good business and offering our members an opportunity to enhance their marketing opportunities.
Tomorrow is the last day of the newsXpress Back to Work campaign.