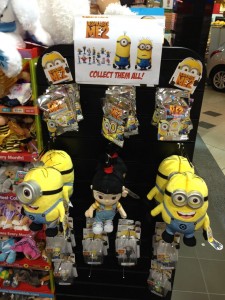 newsXpress members who jumped on the Despicable Me 2 official merchandise product have had a terrific sales run.
Offered through one of our preferred suppliers, the Despicable Me 2 range has been terrific at generating traffic and driving more efficient sales for engaged stores.
This is another international brand promoted by newsXpress and made available through a valuable preferred supplier relationship – showing the value for newsXpress members from these relationships and from the expert advice available through newsXpress for its members.
The photo shows one store thin on stock just two days after putting out way more stock. A great success!