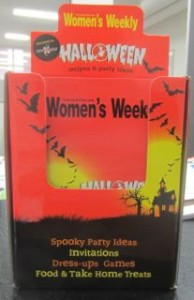 newsXpress stores are exclusively offering a Halloween Party Book created by the Women's Weekly division of ACP for newsXpress stores.
A centerpiece offer from newsXpress for Halloween, this book is a wonderful product to offer to customers looking to make the Halloween season a social time in their street and with friends.
Delivered to newsXpress stores with a sturdy and engaging display unit, the Halloween party book is a perfect and exclusive product offer as part of Halloween 2012.
EXCLUSIVE TO NEWSXPRESS.