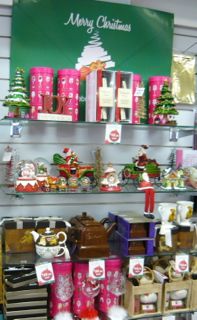 newsXpress Maffra has been promoting newsXpress Christmas catalogue lines and other Christmas items with this display in-store.  Since the photo was taken a month ago sales have been excellent, seeing many lines purchased by happy shoppers.
newsXpress provided a core catalogue range to newsXpress stores and made available access to a broad range of suppliers with other Christmas lines ideal for all sorts of retail situations.
Gifts from suppliers like The Pudding Lady, Gadget King, Landmark Designs, ABW, Sklansen and other suppliers have sold very well this Christmas.