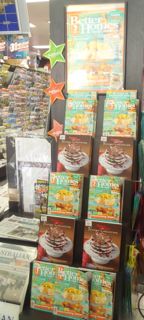 newsXpress Gumdale has been promoting the latest issue of Better Homes and Gardens as well as the EXCLUSIVE TO NEWSXPRESS Better Homes and Gardens Recipe Collection with this display perfectly located next to the main newspaper stand. This placement ensures that more shoppers see these offers … driving excellent sales.
newsXpress Strategic Partner Pacific Magazines provided newsXpress stores with exclusive access to the recipe collection and newsXpress members have been making the most of the opportunity.
Placement is everything in retail … placement of BHG next to newspapers certainly drives sales.