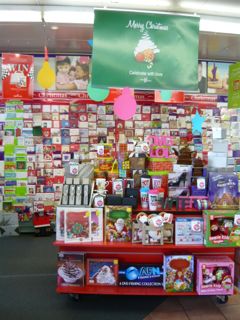 newsXpress Bairnsdale has been enjoying terrific sales in the lead up to Christmas.  From the newsXpress catalogue lines through to the Hallmark Jingle product sales have been excellent.  Indeed they have struggled to keep up with demand for the Hallmark Jingle product as it has been a runaway success with Bairnsdale shoppers.
Key to the success at newsXpress Bairnsdale has been excellent visual merchandising which leverages the excellent products supported by the newsXpress brand.
The display in the photo is well positioned on the dance floor, making the most of excellent store traffic.