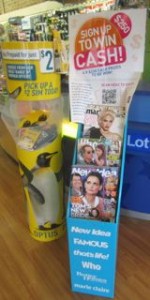 newsXpress East Maitland promotes magazines and Optus SIM cards to shoppers as they enter the business with these tactically placed slim display units.
Each unit presents an clear value proposition.
The Optus unit promotes the $2 SIM cards – an easy purchase.
The Pacific Magazines unit promotes the opportunity to win $250 with three current a popular titles featuring in the floor display unit.
Placing these units in high traffic locations and ensuring they are stocked with current product is vital to their success. The placement at newsXpress East Maitland is perfect – shoppers see then units as they walk in the door and as they head to the counter with their purchases.
Getting shoppers to add to their shopping basket is the icing on the cake as they say. newsXpress presents its members with plenty of opportunities to ice their cake thanks to some wonderful impulse purchase opportunities from our partner suppliers.