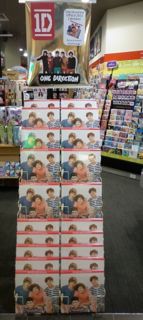 newsXpress members who seized the opportunity of exclusive early access to the 2013 One Direction Calendar are reporting excellent sales results this week. This boy band sensation continues to excite fans, especially young girls.
Some smart newsXpress members realised this and ordered big for the launch of the much-anticipated calendar.
The result this week has been excellent for participating stores – plenty of bonus traffic and sales, well in advance of the traditional calendar season – a nice early Christmas gift.
Some newsXpress members have long ago banked revenue from pre sales of the calendar.
newsXpress has an excellent track record helping newsXpress members to tap into pre-sale opportunities, leveraging traffic and revenue for members ahead of other nearby retailers.
In delivering a window of exclusivity is another example of the value newsXpress delivers to members. One newsXpress location expects to bank close to $3,000 in sales in this period. At a more than 60% margin this is an excellent result. The result gets even better when you consider the payment terms delivered by newsXpress.
One reason newsagents want to join newsXpress is to improve their businesses. The opportunities around just One Direction this year has contributed more than the total cost of newsXpress membership in several situations … making everything else newsXpress does cream on the delicious newsXpress cake.