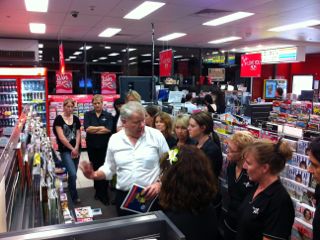 newsXpress has run four in-store training opportunities for employees of newsXpress newsagency businesses over the last month. These EXCLUSIVE to newsXpress training experiences have attracted excellent numbers of team members to learn about best practice management management methods from newsXpress experts.
Discussing layout, beacon branding, co-location and other strategies, these in-store training sessions deliver training to people working at the coal face, training which is unique to newsXpress and offers practical value to the newsXpress businesses represented.
We are proud to lead in this field, to help enwsXpress members leverage their point of difference in the magazine space and thereby drive excellent traffic results for the business.
This training will be one reason newsXpress stores continue to outperform other newsagencies in magazine title sales.
The photo is from magazine training last week at newsXpress Sandgate in Queensland. In addition to a partial relay and refreshing key categories, we covered a range of newsXpress principles which are now being rolled out in newsXpress locations which participated in the training.