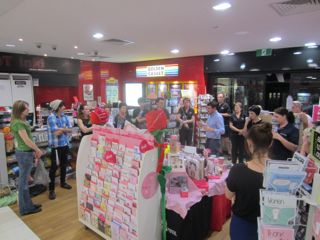 Last week, newsXpress delivered the fourth in-store group visual merchandising training for employees of newsXpress newsagency businesses.
The EXCLUSIVE training sessions were practical, working on live displays in-store and engaging with employees from other stores in building displays focused on preferred supplier products and using newsXpress collateral.
Run by newsXpress Chief Operating Officer (and VM expert) Rob Henderson, this training not only left the host business is a fresh professional display, it provided newsXpress retail employees with excellent practical experience with which to go back to their businesses to create equally stunning and commercially successful displays.
Already we have reports of a sales lift as a result of the training. Banking results is a key goal of newsXpress for its members.
The photo shows a small part of the group assembled at newsXpress Pacific Fair during the training early last week.