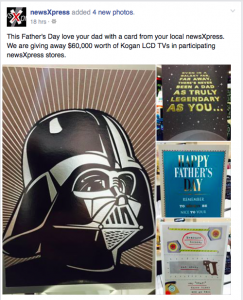 newsXpress has been promoting newsXpress stores as the go to retailers for Father's Day cards on facebook and Twitter through an engaging social media campaign.
Reaching tens of thousands, the campaigns connect locally run newsXpress stores with this traffic generating season.
This latest campaign is part of a history of commitment by newsXpress in using social media to engage with shoppers in their homes and mobile to promote products we sell.
newsXpress continues to invest on behalf of members to attract new traffic for members of the group.