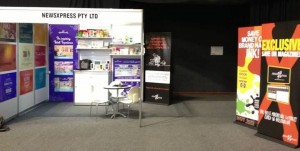 Newsagency marketing group newsXpress yesterday continued years of tradition and newsagent support with a strong and professional presence at the GNS Market fair in Perth.
Visitors to the stand were greeting with the newsXpress pitch, a point of difference among newsagency marketing groups – business marketing and management strategies that have for years been used successful by newsagents to build healthier and more successful newsagencies.
The newsXpress stand at the newsagent trade show also featured wonderful innovation from newsXpress strategic partner Hallmark.
For years newsXpress and Newspower were the only newsagency marketing groups supporting the GNS Market Fairs.