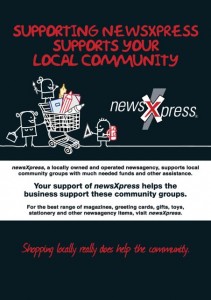 Newsagency marketing group newsXpress has been helping its members promote their local community connection for years with a range of local area marketing initiatives including this poster which pitched support for community groups.
It's through collateral such as this poster and the recently published InStore publication supporting local community engagement that newsXpress shows itself as being about more than supplier deals.
Showing newsXpress members as being locally engaged provides local shoppers another reason to support their local newsXpress business.
newsXpress members have free access to this and other collateral from the group thanks to a comprehensive library in a private area of our website.