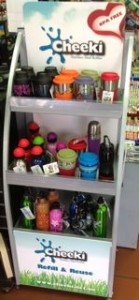 The new style Cheeki water bottle stand at Ascot vale is helping boost sales of the safe (BPA free) drink containers from our friends at Cheeki.
the stand hosts a range of Cheeki product and presents it in a professional and attractive way – helping each retailer with the stand to connect with the brand in a way certain to drive a better sales outcome.
Cheeki is a long term partner of newsXpress and a valued member of our preferred supplier community.