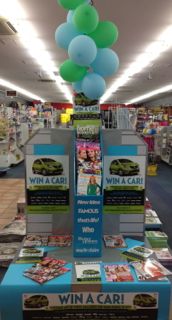 newsXpress Bishops Goondiwindi is promoting the Pacific Magazines Win a Barina Spark! competition with this terrific aisle end display.
Facing shoppers as they enter the business, the display really pulls focus and is certainly driving engagement with the magazines from Pacific which are part of the promotion, titles like New Idea, Famous, Who, Better Homes and Gardens, Feast, Home Beautiful and That's Life.
This is a well timed promotion with a terrific prize … providing our community of proactive newsagents with an excellent opportunity to promote the Pacific Magazines titles in-store … as we can see is being done so well by the team at newsXpress Bishops Goondiwindi.