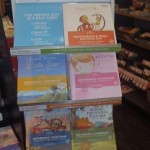 newsXpress Strathpine has been promoting the Hallmark recordable Storybook range with this placement of a display unit featuring the range in a high traffic location in store.
Offering the range in a good location, passed y many shoppers, is key to driving success with the hallmark recordable storybooks – a great product success story for 2011 from Hallmark.
Hallmark has helped newsXpress members leverage sales of the recordable storybooks through the provision of marketing collateral, in store display assistance and product knowledge training.  This an other help has been terrific in driving excellent sales through our group.