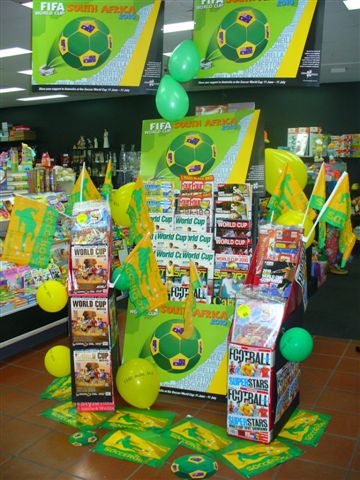 newsXpress Ascot Vale have taken advantage of the great newsXpress POS as well as utilising The Sunday Age 'car flag' giveaway and the vast range of Soccer World Cup publications themselves to promote the world's largest sporting event commencing tonight in South Africa.
With the eyes of the world glued to the telecast, newsXpress newsagents have profitted by strongly merchandising soccer themed magazines and related product, some have even reported sales exceeding $1,500.00 for magazines, a monumental result!
Diane and Kylie have done a great job promoting this historic event, and have transformed their front window with a magnificent World Cup theme. They also expect a strong boost tomorrow on the eve of Australia's opening game against Germany and the release of a $2.00 Socceroo supporter scarf with the Herald Sun.