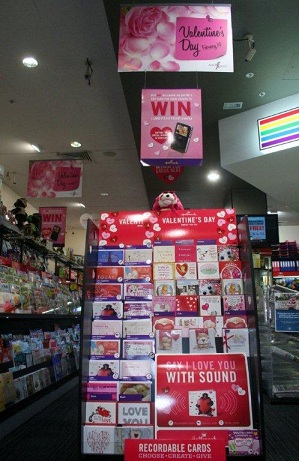 newsXpress stores across the country are at the forefront of innovation this Valentine's Day with a terrific range of Hallmark Sound Cards.
Sitting in prime position in among the broader Hallmark Valentine's Day offer, the sound cards are a wonderful attraction for shoppers.  Getting people engaged with cards is vitally important to driving incremental growth.  The folks at Hallmark understand this.   It is one of the reasons they have original playing and signing on their sound cards.
As a strategic partner of newsXpress, Hallmark supports newsXpress members with easy have easy access to the innovative sound card range from Hallmark.  Our stores also have access to excellent business building support material including posters, prizes to give away and other tools with which we can drive good sales.
From an financial perspective, our Hallmark relationship delivers market leading financial benefits to our members, helping newsXpress stores bank better margin dollars from sales of the Hallmark range.
This Valentine's Day, you can see the newsXpress / Hallmark partnership in action and delivering good results to to newsXpress members and their customers.